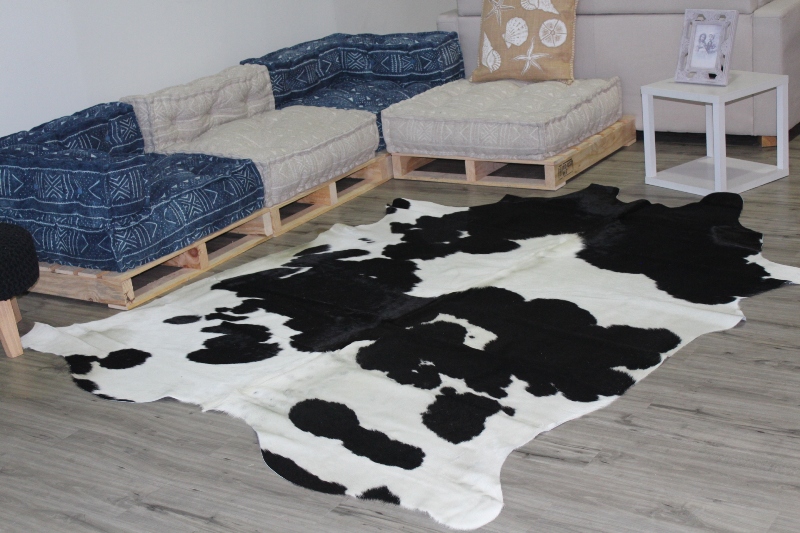 Cowhide rugs look great in any living space. This, however, does not mean that all cowhide rugs are created the same. Every hide has a unique look and feel. They come in a variety of colours, sizes, prices, and textures. It is easy to determine a good quality cowhide rug from a poor quality hide rug. Cheaper rugs are usually low quality but the cost is not the only determinant of quality.
Important Things to Consider When Buying Cowhide Rugs
When buying your cowhide rugs, it is important to note that the process of achieving good quality starts with the selection of skin. Some skins will produce rugs of a higher quality than others.
The selection depends on your tannery. Some tanneries will tan any random hide and hope for the best. The best ones know how to select quality skins.
Skins that are processed for a long time result in higher quality rugs. If they spend a lot of time processing the skins, they also use high-quality tanning chemicals which improves the quality of your hide rugs.
Tanning with hair-on-hide can be difficult. Good quality equipment, chemicals, and skills are necessary.
It is also important to note that you do not always get what you see. When buying online, ensure that the hide you get is of the exact size and colour that you chose. Ask your vendor to send you a photo of an individual rug so that you know exactly what you are getting.
Things to Look for in CowHide Rugs
 Softness and Flexibility
When choosing cowhide rugs, softness is very important. Avoid rugs that appear stiff or difficult to fold.
Even Thickness
The hide you choose should be of even thickness. Look out for parts that are thicker or thinner than the rest of the rug. All high-quality rugs have even thickness.
It Should Have No Visible Flaws
Good cowhide rugs should not have any visible flaws. All hides have their natural flaws. It is, however, possible to hide them using the right repair and treatment methods. Buy a hide whose flaws are invisible. If the hide was damaged, the repairs should not be visible. Low-quality hides may have ugly tears
Your Budget Limits
Decide the amount of money that you are willing to spend on your cowhide rug. A good quality rug does not need to be costly. It should match the size of your rug. Smaller cowhide rugs should be cheaper than bigger ones.
Healthy and Glossy Hair
A good hide rug should have healthy and glossy hair. Do not buy a rug if its hairs seem unhealthy. Dull and unhealthy hair is an indication that the rug is of poor quality.
 If you are looking for quality hide rugs, consider getting them from a reputable seller such as Hide Rugs. Your hide rugs will improve the appearance of your home or office space. The rugs are available in a wide variety of colours so you can always find one to match the needs of your space.