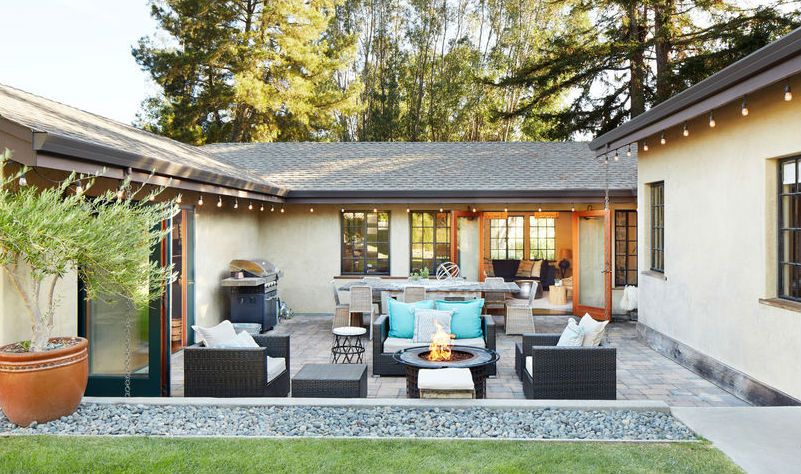 A backyard can be a great space for entertaining or relaxation. If you don't have a backyard that draws you outside, consider doing a backyard makeover.
Add a Porch
A favorite aspect of a backyard space is the patio or deck. While a deck attaches to a house, a patio can be anywhere in the yard. Paver patios are becoming more and more popular due to the variety of paver options, and the long lifespan of pavers. Choose the location of your patio, select your pavers, and be sure to finish with a wet paver sealer. If you need a walkway to connect your patio to your home or want to create a garden path, you may want to plan this when you plan your patio or deck.
Design the Setting
Updating the landscaping can go a long way in completely changing the look and feel of a backyard. In addition to designing garden areas with annual and perennial plants, natural wood and stone create visual interest. A water feature such as a reflecting pool or fountain can bring more life and movement into your space. If outdoor entertaining is your aspiration, consider including play space such as a croquet lawn or boccie ball court.
Choose Furnishings
With the patio and landscaping underway, it is time to think about outdoor seating. An outdoor kitchen and table with chairs are great if you are hoping to create a space to eat open-air meals. If you plan to have an outdoor lounge space, you may prefer to focus on furniture that provides comfort. If you design a garden with a path running through it, there may be an ideal spot to put a bench, creating a private space.
The options to get the ideal backyard space for you are endless. Choose the way you would like to use your outdoor space and plan the features and furniture you need to achieve it.